Carpenters And Joiners Insurance
Whether you operate a large scale carpentry business with a big team of staff or you're looking for self-employed carpenter insurance cover, you have to be very careful to pick a product that fully covers your financial interests.
It's very easy to pick a generic business insurance policy online only to be exposed to significant risks because of very unique claims situations in the carpentry and joinery industry.
Such risks can become very real and bring about crippling costs that can put your entire business in jeopardy. Unless, of course, you have taken out a policy specifically designed for your type of business.
To make sure that you have the best possible cover for all eventualities, talk to our team of expert commercial insurance representatives. Simply dial 1300 886 781 and receive completely free advice and a no obligation quote.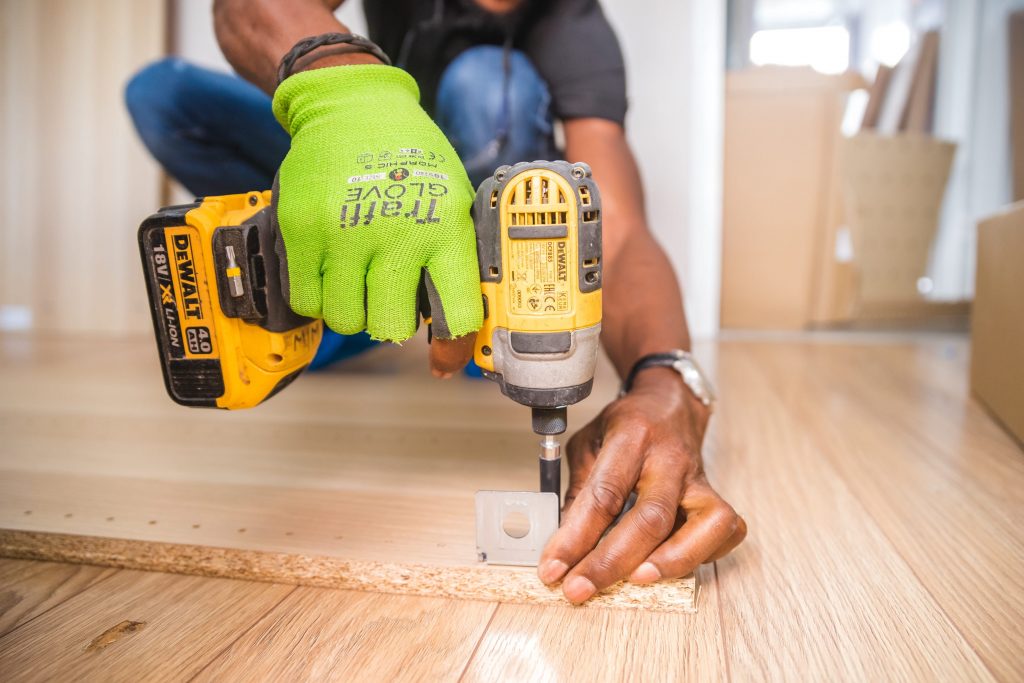 Unique Risks In The Carpentry Industry
Similar to many other trades and construction related businesses, there are some very unique risks that you can be exposed to. It is vital that you make sure these are covered specifically in your policy wording.
Material Damage From Fire
Whether at a worksite or in your workshop, you will constantly be surrounded by sawdust, wood chips and many types of adhesives and lacquers. All it takes is a spark from a piece of machinery or electrical equipment to cause a fire that can cause significant personal injury and property damage to your equipment and third party materials.
Employer Liability
As an employer you're responsible for the health and safety of your staff. No matter how well you train them on safe work practices, accidents can and will happen. This is especially the case in carpentry due to the types of machinery in operation.
Product Liability
Choosing your materials carefully for the highest possible quality is always the best approach. However, manufacturing faults and mistakes can be made. Because your finished work will often be part of quite significant building structures, there can be huge costs involved when mistakes happen.
Retro-fitting and replacing faulty parts can result in costs that run into the hundreds of thousands of Dollars dependent on the size of the projects you regularly work on.
Quality Advice You Can Trust
Carpenters insurance is quite different from many of the other trades out there and dependent on what type of projects you work on you may need very specialised cover.
At Aspire Insurance Solutions our team of commercial insurance representatives have the expertise from years' worth of dealing with carpentry businesses of all sizes. This means that we understand your industry and are able to find the right policy to give you maximum peace of mind.
Face To Face Service
Buying insurance online might seem like a very convenient way to do business, and people have come to believe that online purchases are always the best deals. However, this approach could leave you with a policy that doesn't cover all risks.
That's why we always meet face to face with clients in order to fully understand how your business operates and what types of projects you take on.
This ensures that you always have a policy that provides maximum protection from financial losses.
Expert Claims Handling With 24/7 Support
No matter how large or small a claim ends up being, the last thing you want to do is spend endless time on the phone to try and get the claims process set up. Especially in more serious situations, you'll want to focus more on keeping your business running.
With extensive experience dealing with all the insurance providers, our team is able to assist you in the unique processes that are involved. This saves you a lot of time and hassle, and ultimately speeds up the processing time of the claim.
Annual Cover Review For The Best Premiums
Each year your carpentry and joinery insurance will come up for renewal. This gives you the opportunity to shop around and see if there are other or better options available. However, if you were to do this yourself, you could end up spending many hours online or on the phone with the different providers.
And then you have the difficulty of trying to compare the different options available.
Unless you have experience in comparing policy wording you may end up making a bad decision resulting in an inflated premium or less than ideal risk cover.
At Aspire Insurance Solutions, we provide all of our clients with a full annual review to see if there are better premiums and newer products available.
Just pick up the phone and speak with one of our dedicated insurance representatives on 1300 886 781. All the advice you receive is free of charge and you'll receive a highly competitive quote with no obligation to buy.
Common Claim Scenarios
With the extensive experience in dealing with countless carpentry businesses we have encountered many different claims scenarios. However, there are two types that can have the most severe financial effects.
Fire Damage
When you're working in an environment with lots of saw dust, wood chips, paints, lacquers and solvents, then fire is a very serious risk. Whether this happens in your workshop or on a job site, the injuries and damage to equipment can be very serious.
Property Damage
No matter how much experience you and your staff have, and even with the best safety precautions, accidental damage to property can still happen. If this happens on a large construction job and results in delays, then you could be facing a lot more costs than just the damage to a building.
What Does Carpentry Insurance Cover?
No matter how large or small your business operation is, there are a few things that you always want to make sure you're covered for:
Fire and accidental damage
Flood ( Flood Is An Option You Have To Choose And Is Not Automatically Covered )
Cover for machinery, fixtures and fittings
Equipment breakdown
Business interruption protection
Cash stolen on premises or to/from the bank
Breakage of internal and external glass
Burglary and theft
Public liability – compulsory for you, the landlord requires all tenants to have this
Management Liability
Cyber Insurance
Workers Compensation
Motor vehicles
Tool cover on and offsite
Contact Us Today
When you contact our commercial insurance representatives team at Aspire Insurance Solutions you will always receive the best advice and selection of policies. This makes sure you get the best combination of policy wording and premium to protect your financial interests.
Just pick up the phone and speak to our dedicated team on 1300 886 781, or use the contact form on this page to leave your contact information.