Cafes Insurance Policies For Maximum Risk Protection
In the food and catering industry, one area that has grown significantly in the last 20 years is the number of cafes and coffee shops. These businesses have gained popularity especially for day time trade as they provide very convenient and affordable ways for the public to buy snacks, refreshments and evening dinners.
With the increased trade that coffee shops see these days, there is also a much higher chance that your business will encounter situations that expose you to financial risks.
The unfortunate reality is that those risks are very real and common. And if your insurance cover is not set up specifically to protect you from various claims scenarios, then you could be facing crippling losses.
To find out whether your existing policy provides the right cover, or to see if there are more competitive premiums available, just call our team at Aspire Insurance Solutions on 1300 886 781.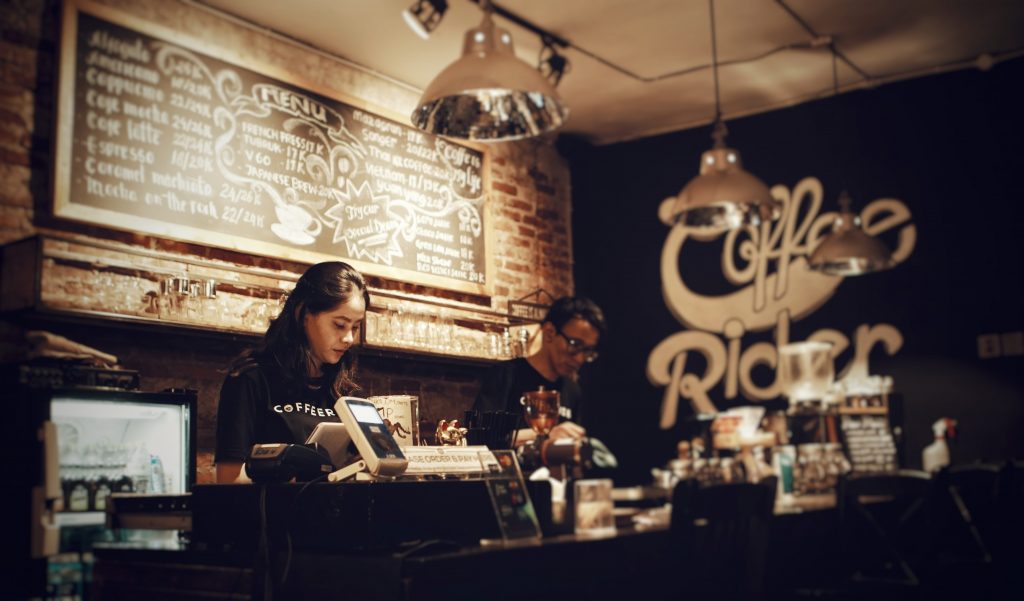 Unique Risks Cafes Are Exposed To
Unlike other businesses in the food preparation industry, you can be exposed to very different risks when you're serving the public and your staff are working with hot machinery and produce. The following are the most significant risks you're exposed to.
Public Liability
No matter how careful you are to avoid food contamination or slippery surfaces, accidents can still happen. And when they do they can result in significant sickness and injury. These situations leave you wide open to a civil lawsuit where compensation and legal expenses could cost you your business.
Worker's Injuries
At the very least you will have tea and coffee making equipment where your staff are exposed to very hot materials. But you might also have a kitchen for food preparation where it can easily happen that staff suffer an injury.
Quality Advice You Can Trust
If you're wondering what kind of insurance you need for a coffee shop you're opening, or you have concerns that your existing policy may not provide the best protection, then you have to be able to trust the advice you receive.
At Aspire Insurance Solutions we have a dedicated commercial products team that has extensive experience. As a result we have encountered all of the most common and uncommon claim situations to make sure your policy has you fully covered.
Face To Face Service
The only way you can ensure that your policy covers your unique business set up, is to have it fully analysed by a specialist in the food industry and insurance policy wording. This is not something you want to rely on some online quoting system for.
That is precisely why our team will always meet with you in person to make sure we fully understand your business. The more tailored your insurance policy is set up, the better the risk cover and premium will be.
Expert Claims Handling With 24/7 Support
When you do encounter a claim situation, then the last thing you want to do is spend hours on the phone to try and get the process going. You can quickly end up having to follow up with countless pieces of information.
Your service with Aspire includes a claims support that is available 24/7. We help you process a claim and advise you on all the information you need in order to settle a claim as quickly as possible
Annual Cover Review For The Best Premiums
All commercial insurance policies require an annual review and renewal. This time allows you to review your existing cover and shop around for other quotes to see if you can get a better deal.
However, this can be a time consuming process to go through yourself. That's why our team do a full annual review to check if there are better and newer products available with possible premium reductions as well.
If you would like to take advantage of these excellent service features, then talk to us today on 1300 886 781, or use the contact form on this page. Our insurance representatives are ready to provide you with completely free advice and a no obligation quote.
Common Claim Scenarios
Over the years we have helped countless cafes to tailor their insurance policies and deal with their claims. These scenarios can cause minor inconveniences and business disruptions, but in many cases they can cause costs to mount that could even result in bankruptcy.
Public Injury Claim
This is quite a common situation where some liquids may have spilled that went unnoticed by you or your staff. If one of your customers slips and gets injured then you could be facing serious costs for damages and medical bills as well as countless legal liability costs.
Product Contamination
No matter how careful you are with your food preparation and storage, you can encounter situations where some of your ingredients have become contaminated. This can be out of your control and happen in your supply chain, but it still leaves you liable for any sickness suffered by your customers.
Equipment Breakdown
All coffee shops these days are heavily reliant on specialist machinery, cooking equipment and storage facilities. If these become faulty or break down then you could be facing serious business disruptions and lost revenue, along with costs to repair or replace the machinery.
Imagine a cold storage room breaking down and all your perishable produce being affected. Not only could you face a huge bill to replace the produce, but you may have to remain closed for a few days to rectify the problem.
What Does Cafes Insurance Cover?
Whether you need insurance for a small café with limited food service, or you cater to full evening dinner service as well, there are certain things you always want to make sure you're covered for:
Fire and perils, covering equipment, fixtures and fittings, and stock
Flood ( Flood Is An Option You Have To Choose And Is Not Automatically Covered )
Business interruption protection
Machinery breakdown
Money cover – on premises/at home, and to/from the bank
Glass breakage internal and external
Burglary and theft
Public and product liability is an absolute must
Management Liability
Professional Indemnity
Cyber Insurance
Workers Compensation
Contact Us Today
If you need cafe insurance in Australia or have concerns that your existing policy may not provide adequate protection for financial risks, then pick up the phone today and talk to our team on 1300 886 781.
You will receive completely free advice to make sure you find the best possible premium with discounts available from many of the leading insurance providers. You will gain peace of mind and the opportunity to reduce your premiums as well.