Panel Beater Insurance
If you're self-employed or a business owner in the panel beater industry, then you face some very unique financial risks. These risks are very different to the majority of other industries and can leave you exposed to serious financial losses.
Operating in this industry requires insurance policies that go beyond the basic building and machinery as well as liability cover. It's vital that you're very careful to not just pick a generic business insurance policy as this will likely not have the policy wording you require.
With the help of Aspire Insurance Solutions you gain a far better understanding of what types of risks you need to protect. With extensive experience our commercial insurance representatives can provide you all the information necessary to gain some well-deserved peace of mind.
Just contact us today on 1300 886 781 or the contact form on this page for free advice and a no obligation quote.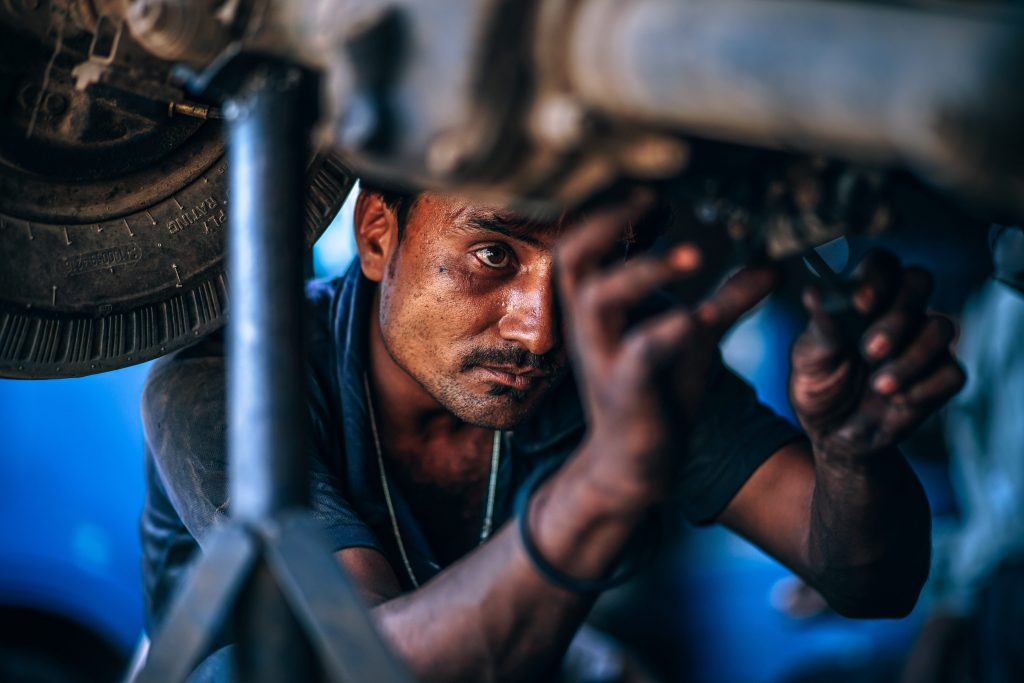 Unique Risks In The Panel Beater Industry
In order to get set up with the best possible panel beater protection from financial losses, you have to first fully understand the types of risks you can be exposed to. Over the years we have worked with many different size businesses.
This has also given us a load of experience with many different types of claims. The following are some examples of the risks you are exposed to that could end up crippling your business.
Hazardous Materials
If you think of some of the equipment you have around your workshop this will likely include welding gear as well as solvents, paints and other specialised chemicals. These are vital to running your business, but they can cause serious harm if misused or wrongly applied.
As a result you could find yourself in a situation where customer property is damaged or worse, you or one of your employees becomes exposed to these materials in a way that causes serious injury.
Heavy Machinery
Panel beating requires the use of some very heavy machinery to work with different types of metal. While you might have excellent training and health and safety precautions in place, accidents can still happen and result in very bad injuries.
These types of situations can leave you exposed to large financial claims to replace damaged property or cover costly medical and recovery bills in the event of an injury.
Quality Advice You Can Trust
When you need protection from very unique risks, then you have to be confident that the advice you receive is accurate and results in the best possible cover. Because of our team's experience working with countless clients like you, we have gained some very unique insights.
We have set up many insurance policies and helped our clients deal with claims situations to make sure that financial risks are kept to a minimum. And you can take full advantage of that experience to gain some peace of mind.
Face To Face Service
Many people these days turn to the Internet for insurance quotes on everything from car to building cover. It's certainly convenient, and in a matter of minutes you can be set up with a policy.
But how confident are you that all aspects of your business are truly covered? That's why we operate on the basis of in person consultations so that we can fully understand and assess your risks.
This is the best way that you can make sure your policy cover suits your risk exposure.
Expert Claims Handling With 24/7 Support
Even when you face processing a relatively small claim, you have to be prepared for investing some time and effort in order to get to the stage of an actual payment. At a time when you could be facing business interruptions, this can be quite a distraction.
That's why your service with Aspire Insurance Solutions includes 24/7 claims support where we can take care of the majority of the claims handling process.
With extensive experience dealing with the unique processes of different insurance companies, we can make sure you receive payments as quickly as possible
Annual Cover Review For The Best Premiums
As with any other insurance product your panel beater insurance policy will have to be renewed every year. Many people simply take the renewal quote they receive and stick with it.
But this is a very inefficient way to deal with your insurance needs. To make sure that you always have the best product and cover with the lowest possible premium, we automatically review your options at renewal.
This ensures that you always have the latest deals available and in many situation you can save on your premium costs as well.
To take advantage of these excellent service options and receive completely free advice on your policy needs, just pick up the phone and talk to one of our insurance representatives on 1300 886 781.
How To Value Your Property
Property valuation is a very core part of any insurance policy. However, when you get this wrong, you can either end up underinsured or with an inflated premium. Neither situation is desirable, but being underinsured is by far the greater risk.
If you value your building and equipment, tools and machinery at less than what they would cost to replace, then you could be facing a serious shortfall when it comes to a claims situation.
To help you avoid either of these situations you should discuss the details of your valuation with one of our expert commercial insurance representatives. We can help you come up with an accurate valuation and ensure you're fully protected.
What Does Panel Beater Insurance Cover?
There are some very unique products available and you can always tailor a policy to cover your individual business needs. However, there are a few things you should always make sure you have protection for:
Fire and flood damage
Flood ( Flood Is An Option You Have To Choose And Is Not Automatically Covered )
Cover for machinery, fixtures and fittings
Machinery breakdown
Business interruption protection
Cash stolen on premises or to/from the bank
Breakage of internal and external glass
Burglary and theft
Public liability – compulsory for you and the landlord requires all tenants to have this
Management Liability
Cyber Insurance
Workers Compensation
Contact Us Today
For completely free advice or a review of your existing cover, make sure you talk to us today on 1300 886 781. We will tailor a no obligation quote to your specific needs and help you with the entire valuation process as well.
It's a simple process that will make sure you have the insurance cover you need to deal with all types of situations you could encounter.